"Hard Rock" Season
2021-03-23 09:51:39
Soldiers,
We're happy to bring you a new season of Warface. And it'll rock (pun intended) your world!
Battle Pass: Hard Rock
Do you hear the loud music shaking the ground? Do you feel the adrenaline pumping through your veins? Say no more... it's time to embrace the Hard Rock over the course of 50 levels in the brand new Battle Pass. To secure new levels, complete PvP matches, PvE missions and Special Operations.
Personal progress and levels
By completing all 50 levels you will get 500 Kredits, therefore recouping the complete cost of the Battle Pass! This time you will also accumulate up to 6000 crowns over the course of all 50 levels.
To get into the groove, you'll need the right looks. These fresh Biker skins will fit perfectly.
And of course where would you be without the new hardcore "Highwayman" style. The loadout is particularly hot with this one. Light 'em up!
"Highwayman" AK Alpha
"Highwayman" HX Outdoors Trident
"Highwayman" SIG Sauer P226 C
"Highwayman" MAG-7 Venom
"Highwayman" Thompson M1928
"Highwayman" Kraken CDX MC
AK-47 Custom
Achievements
This Battle Pass will add for 4 new marks to your stylish collection. Rock on!
Born to Ride
Respect Few, Fear None
Supercharged
Steel Reaper
Crates
Just as before, you can find a guaranteed prize. Even if you get unlucky and 24 crates later you open only temporary items, you will definitely get an awesome permanent prize from each 25th crate. In addition, permanent weapons cannot be repeated: in other words, you will always receive a new model.
"Highwayman" Equalizer Famas F1 Custom
"Highwayman" Gilboa Snake DBR
"Highwayman" DVL-10 M2
"Highwayman" Fabarm STF-12 Short
Switchblade
---
Seasonal Content
The content below was ported from the PC version of the game. And there is a lot of it, so let's dive in!
Updated Crown Series
The weapon line-up has been topped up with powerful arms: F90 MBR, Tavor TS12 Custom, LWRC SMG-45, Remington MSR and CZ 75 Czechmate Parrot. The key feature of the elite series is improved specs: the new weapons differ from their regular versions thanks to increased magazine capacity and more ammo.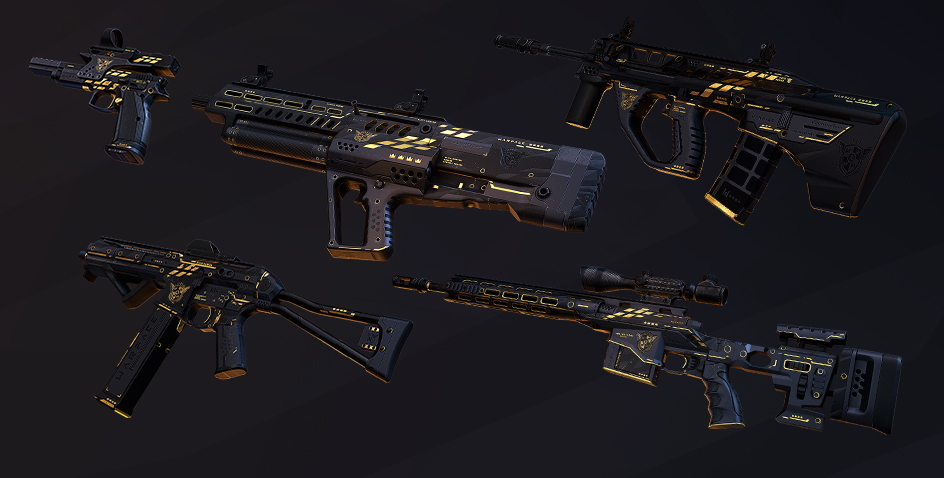 HX OUTDOORS TRIDENT
The combat stats of this novelty will be on par with those of the Balisong Knife. Apart from excellent combat effectiveness, the knife offers a unique animation that gets activated when it is not used and allows you to get a better view of the unique colors of the weapon.
"Pirate" Series
Cobalt Kinetics EDGE Rifle
Typhoon F12 Custom
Cobalt Kinetics Stealth Pistol
Cobalt Kinetics Twenty-Seven
CZ 805 G1
Glock 18C
Cleaver
"Halloween" Series
Howa Type 89 Custom
Chiappa Triple Threat
Thompson M1928
DVL-10 M2
XM556 Microgun
Kel-Tec SUB2000
HX Outdoors Trident
Charms
The charm system has come to consoles! Charms will open up a new facet of customization making customization of the weapon looks even more flexible. They will also expand possibilities of introducing new content into the game to mark various holidays, events and other activities.
Golden Doubloon
Jolly Roger
Treasure Map
Dead Man's Chest
Captain Hook
Demon Spider
Spooky Ghost
Chained Coffin
Jack-o'-lantern
Bat Out Of Hell
Changes to shooting mechanics
Shooting, as one of the main game mechanics, has always been in the center of attention of prohibited software developers. In particular, they used game exploits which made it possible to shoot without interruptions. Of course, the situation needed to be solved.
And while working on the problem, it became clear that a high-quality fix cannot be limited to the elimination of only one vulnerability. We had to modify the most basic shooting mechanics, so it took us quite a long time. Some of the root shooting algorithms have been completely reworked, and some of them have been transferred from the game client to the server.
Please note that this change is purely internal and technical in nature. It does not affect weapon specs and their conduct in battle.
Bug Fixes
The game client no longer crashes in PvE missions when certain types of opponents fail to hit the player.

Fixed an error due to which the player continued seeing former clansmen in the contact list after being excluded from the clan.

Added additional logging to get more data on some reasons of game client crashes.

Fixed a bug due to which, in some cases, the sounds and visual effects of bolt-action sniper rifle shots were not be played.

Fixed a bug due to which the visual effects and sounds of weapons firing bursts continued to be played even after firing stopped.
Enjoy the new content and see you on the battlefield!
---
Discuss the article