Golden guns and "Winter Camo" series
2018-11-27 10:53:24
Soldiers!
Arm yourself up with the "Winter Camo"-series and Golden guns, including the all-time favorite M16A3 assault rifle and all-time low prices. Something you just can't miss!
---
Gold Fund
Our main pick of this week is the legendary, battle- and time-tested M16A3 assault rifle. Up for direct sale for the first time, this piece is likely to catch the eye of any Rifleman that knows his weapons. It's particularly promising and appealing to PvP players, owing to consistent damage and manageable recoil, which will be well-suited both to the veterans and newcomers alike.


Engineers can expand their armory with the Golden Honey Badger SMG. Aside its stunning looks, this gun is noted for its high performance and the built-in suppressor that's extremely well-suited to covert ops before the Engineer makes things go boom.
Snipers should aim for the Golden AS50. A finest of its class high-caliber British sniper rifle with stunning damage up to 350 points — you're not likely to need to shoot again. But just on the off-chance that you have to, the great rate of fire will allow you to place follow-up shots quickly.
A Golden Desert Eagle pistol. The weight of this yet another high-caliber gun steadies the hand, while the golden finish keeps it classy. Land killing blows — with pleasure — with this gun and you can get three unique achievements!
---
"Winter Camo" series
Winter's coming, get your Winter Camo! On top of their fitting camouflage, these weapons will offer improved combat specs and performance.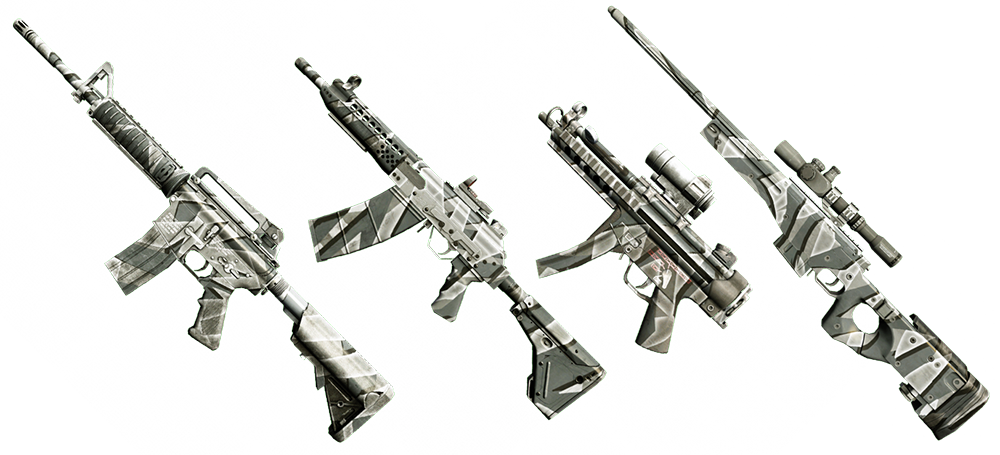 You think you can take 1000 targets out with a gun of this series? Good, this stripe'll be waiting for you!

---
Discounts on "Winter Camo" series
Just in case you've been longing to expand your armory but couldn't decide which gun to go for, this 20% discount on the entire "Winter Camo" series will help you make the right choice!
20% off on all "Winter Camo" series guns!
And a quick reminder to all achievement hunters: you can get a catchy stripe for landing 1000 killing blows with guns belonging to this series.

See you in battle!
---
Discuss the article