Fresh shop supply
2019-06-04 08:31:23
Soldiers!
New powerful weapons have hit the store. The time has come to check out superb guns and top up your armory!
---
Enfield L85A2 Custom
This rifle's reputation precedes it. No matter how many missions you have been through, Enfield L85A2 Custom will be comfortable and pleasant to hold for a battle-hardened veteran and for a beginner alike.

---
Golden MAG-7
The compact pump-action shotgun developed on the basis of the submachine gun UZI will never let you down when it comes down to a hard combat. Its unrivalled damage, excellent range and amazing accuracy as well as stylish looks will make the arm shine bright like a diamond on the battlefield.


---
Golden Honey Badger
The glorious golden version of Honey Badger makes a comeback to the shop! Rapid, accurate, quiet — this submachine gun is a fine pick for stealthy missions. It comes equipped with a built-in silencer reducing shot sound and, thus, concealing your position. The enemy will never know who landed the deadly blow.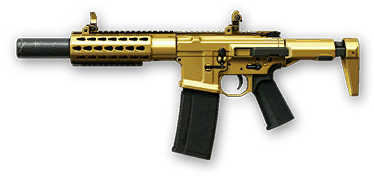 ---
Remington MSR
Don't miss the chance to get your hands on the best long-range bolt-action sniper rifle that will prove itself reliable and indispensable in PvE as well as in PvP. The gun is quite a powerhouse. Due to insanely high damage values and incredible range (85 points!) one accurate shot will obliterate your enemy almost at any distance. The hunting season is open. Go in for the kill!

These top-tier performers are available via direct purchase in the game shop
---
Discuss the article