High fashion days in Warface
2019-06-07 09:48:42
Soldiers!
Your camo looks battle-worn? The old weapons bored you to death? Tired of blending with the squad? The fresh shop supply will cheer you up!
---
"Top Dog" Helmets
Check out the "Top Dog" helmet line-up. It is bound to catch on and become the hit of this summer! The bright magnificent helmets will highlight your leadership qualities and provide excellent increased (by 60%) head protection shielding you from your adversaries' hail of lead and envy. The gear items are as sleek as they are useful due to their ability to regenerate 8 health points over time (after 4 secs with no hits).
Do not overlook the integrated sunglasses that will safeguard your sight from glare of the sun while playing beach volleyball or taking down an enemy marksman. The line-up comes in two colours: a thrilling turquoise and a bold garnet.
---
Golden CZ Scorpion Evo3 A1
Engineers, your shining moment has come! The superb golden version of the submachine gun made in the Czech Republic will turn into a real nightmare for those who dare stand in your way! You will hardly be caught unawares due to its unrivalled damage, large-capacity magazine and a damage buff against cyborgs!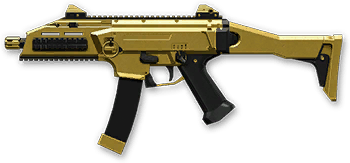 By the way, by killing 999 enemies with this weapon you can obtain an elegant stripe.

Get this miracle of a SMG now in our cosy shop via direct purchase and receive a full set of golden modules for free!
---
М16А3 Custom
Undying classic Rifleman primaries never go out of style. Seasoned warriors know a good rifle when they see one. The arm designed by Eugene Stoner boasts first-rate specs: high damage, excellent range and manageable recoil – that's every Rifleman's dream!

Buy it now or try your luck opening a crate - it is up to you!
---
DP-12
The shotgun's striking futuristic design will suit well any Medic's macho style. The double-barrel gun produced in the USA is like no other shotgun. In spite of its looks, DP-12 cannot fire two shots at a time but its second shot will follow in the blink of an eye if your target can still blink.

Top up your armoury now: DP-12 is available in the game shop via direct purchase and in Random Boxes.
---
Bushmaster BA50
A fierce gun for a fierce fighter! Thanks to .50 BMG ammo Bushmaster BA50 is designed to take, this sniper rifle has a very high chance of making a one-shot kill. Your enemies will turn green with envy!

The arm awaits its heroes in the game shop. You can get it now via direct sale and in Random Boxes.
---
Discuss the article